POP Peeper Pro
Buy POP Peeper Pro
Download POP Peeper Pro
---
POP Peeper Pro provides all the capabilities of POP Peeper and includes additional benefits to make POP Peeper even more convenient.
POP Peeper Pro exclusive features:
| | |
| --- | --- |
| AntiJunk | Filter the junk from your legitimate email using effective tools.  This enhances POP Peeper's primary focus of email notification by alerting you of legitimate email and ignoring the spam. |
| Spell Checker | Spell checks your text in real-time when composing email. |
| Profile Picture | Display an image associated with the sender when viewing email. |
| Move Messages | Move messages to other folders on the IMAP server. |
| Web of Trust | Use the WOT community to protect you from scams and untrustworthy websites. |
AntiJunk
POP Peeper's AntiJunk suite provides an effective method to separate the junk from your legitimate email, thereby reducing the number of "false" new email notifications when you receive spam.  AntiJunk provides several types of filters to help categorize your email and will learn whether the email is spam or real.  AntiJunk provides many Actions that can be performed and can also provide special alerts based on the criteria you set.
Comprehensive Tools:
White / Black list: Allow/block email addresses or entire domains
Rules: Powerful rules (including regex) can target very specific or general email; Rules can also be used to assign special actions, such as playing a unique sound when you receive email from a certain sender.
Bayesian learning: You can train POP Peeper which messages are junk and legitimate and it will learn so that it can evaluate new messages.
URI Blacklist: Checks whether the URLs in your email belong to known spammers
DNS Blacklist: Checks whether the sender of your email comes from a known spammer
Actions: You can assign what happens when POP Peeper determines your message is junk or legitimate, or for special rules
Ignore
Mark as read
Delete
Change the color in the message list (text and/or background color)
Move the message to another folder on the server (IMAP only)
Assign an icon to the message
Run a command or play a sound
More
POP Peeper interface:
By default, messages that POP Peeper determines are junk will not be displayed in your message list and will not activate the new email notifications.  There are several indicators to let you know that you have received junk mail so that you can review them at any time and delete them.  Convenient buttons and keyboard shortcuts will allow you to mark messages as junk (and automatically delete them) or legitimate so that you can train POP Peeper for future messages.  You can also report spam to authorities such as SpamCop or the U.S. government.
Advanced users:
Advanced users will appreciate the following features:
Statistics, including the capability to filter by a date range
Assign intuitive plain text rules, wildcards or regex that can be applied to a large variety of values in the email (e.g. name of the account, size of the message, attachments, etc.)
Bulk train Bayesian if you have an existing set of junk and legitimate email
A powerful tool is provided to see which rules and filters are effective and which are just wasting cpu cycles
Fine-tune many details
See why a message was evaluated the way it was directly on the POP Peeper interface or when you view the message, or re-test it in the sandbox to get even more details
Spell Checker
The Spell Checker will check your spelling in real-time and highlight the misspelled words or optionally play a sound.  The personal dictionary allows you to add words that the spell checker doesn't already know.  English is installed by default and additional dictionaries can be downloaded.
Features:
Real-time and on-demand spell-checking
Personal dictionaries allow you to add your own words
Right-click menu allows you to conveniently select the correct spelling
Additional languages are available for download
Disable spell-checking for the current message only
Optional sound when you misspell a word
Profile Picture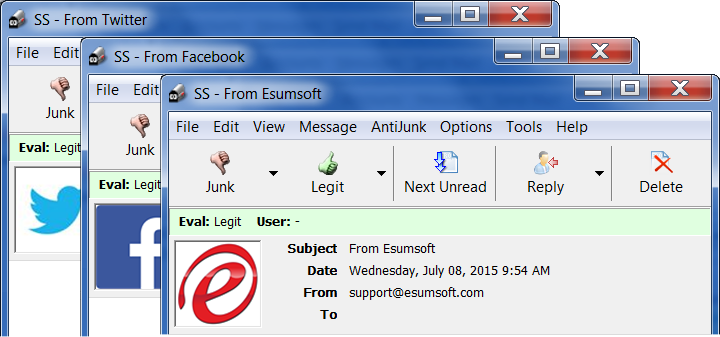 Note: The Profile Picture plugin is new in POP Peeper v4.1
The Profile Picture plugin will display an image associated with the sender when you view email. In some cases, the image will be automatically displayed or you can manually assign an image.
Automatic display
Many websites' Facebook accounts have been pre-configured and POP Peeper will automatically retrieve and display the profile picture from Facebook when you receive their email.
Email received from @gmail.com accounts will retrieve and display the profile picture from the Google+ account if available.
Senders that have associated their email address with Gravatar will display their Gravatar picture.
Semi-automatic display
You can add the Facebook username into the sender's entry of POP Peeper's address book. POP Peeper will automatically display the profile picture from Facebook.
Manual display
You can assign an image (either on your hard drive or URL) for any entry in POP Peeper's address book.
Move Messages
Note: The Move Messages feature is new in POP Peeper v4.1
This feature allows you to move existing messages into another IMAP folder on the server for organization. It also allows you to create folders and even change the folder that deleted messages get moved to. POP Peeper will remember the last several folders that you've moved messages to, so you can easily archive messages from your inbox to another folder. A button has been made available to the toolbar for easy access (right-click on the toolbar and select 'Customize' to find and add the "Move to" button).  You will also be able to access/view messages in these folders just like your inbox.
Watch the video tutorial.
Web of Trust
POP Peeper has partnered with Web of Trust (mywot.com).  This plugin will scan the URLs in your email and determine if they are trustworthy.  When you hover your mouse over a link, you will be shown the rating as evaluated by the Web of Trust community and clicking on a link that has been deemed untrustworthy or unknown will prompt you for confirmation before continuing to the potentially unsafe website.  This tool is especially useful in preventing phishing scams that pretend to be from a well-known website but actually links to an untrustworthy one.
Features:
Hover your mouse over a URL to see the WOT evaluation
Attempts to click on a questionable link will show the WOT evaluation before allowing you to continue (configurable)
View a list of all URLs in the message with the WOT evaluation for each link
Open the mywot.com scorecard webpage for the URL
---