Message searching

(Pro)

You now have the capability to search for messages in your accounts. Advanced options can help narrow down the results by searching for text in the subject, sender, message, and by dates, message size and attachments.

---
Themes

(Pro)

Themes change the color of the main POP Peeper windows and is particularly useful if you prefer a dark Windows theme. Over a hundred themes are currently available and you can preview and choose which themes you want to install from within POP Peeper.

---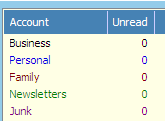 Custom account order
Prioritize your accounts — accounts can be re-ordered by dragging and dropping the accounts within the Accounts list.
---
Independent view-message window (modeless)
Viewing a message no longer blocks access to the main window. You can even open multiple view-message windows simultaneously.
---
Auto-update

(Pro & Plus Pack / Free)

POP Peeper Pro (and/or the Plus Pack) can auto-update the main program and most plugins. Plus Pack users will no longer have to download and install a special installation because the Plus Pack can now be installed using the new Auto-updater. The free version will auto-update certain plugins, such as SSL.
---
IMAP upload and save Sent messages

(Pro)

Upload standard email files (.eml) stored on your computer to your IMAP account. This is a great way to save messages that you've archived on your local computer to the cloud. Related to this, POP Peeper Pro can also save messages you send from POP Peeper to the standard 'Sent' folder of your IMAP account.
---
Rule Wizard

(Pro)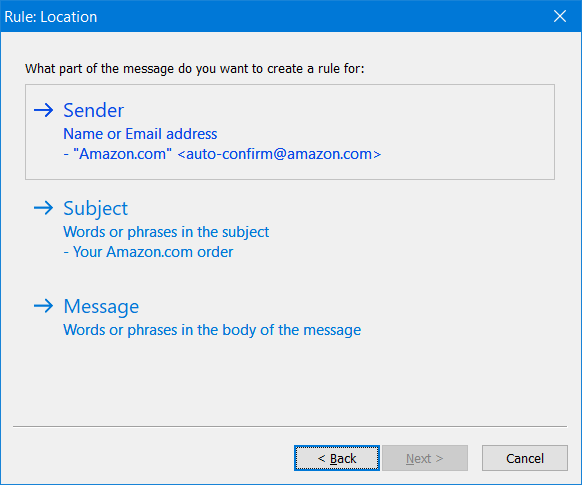 The Rule Wizard allows you to easily create rules in AntiJunk. The rules you create do not necessarily need to filter out Junk; for example, it can play a special sound when you receive email from a certain person.
---
Print message enhancements
Improved print support allows you to print the plain, rich or HTML message that you're currently viewing. You can now select the printer (and other standard options) and preview is available for HTML printing.
---
MAPI support
MAPI support allows you to compose a new email with attached files from other programs — including File Explorer and most Office suites. For example, if you want to send a file to someone via email, you just right-click on the file in File Explorer and select "Send to -> Mail recipient" and the file(s) will be attached to an outgoing email in POP Peeper for you to compose. Many office suites allow you to email the current document to someone instead of having to save the document, compose a new email and then attach the file.
---
OAuth2 improvement
POP Peeper now allows you to use your own web browser to authorize POP Peeper for OAuth2. There are several advantages to the new methods:
The process is generally much easier if your login/password is saved by your web browser — no more having to remember or dig out your password! In most cases, the first page you see will be the page asking if you want to authorize POP Peeper — you won't even need to login.
For Gmail, your webbrowser will automatically send the OAuth code to POP Peeper; for Yahoo and Outlook, you will need to copy and paste the code.
Using your web browser is more secure than using an embedded browser.
---
Misc

New and higher resolution icons
Attach images from the clipboard (e.g. paste after using Windows Snip & Sketch utility)
Installer has "quick-install" option

Messages can be marked as "Important" (Ctrl+i) and identified by a new icon
You can set a default account for contacts in your address book; this will automatically use that account when you compose an email to that contact.
Option to not mark messages as read when opened; this requires you to perform an explicit action (e.g. mark read, delete, reply-to) to remind you which messages still require your attention
AntiJunk processing is more efficient and faster
Retrieving 'Preview' for IMAP messages (the default retrieval option) now includes the HTML text in addition to Plain text.
Outgoing messages can be marked as high/low priority
AntiJunk sub-rules can be re-ordered
OpenSSL v1.1
Hundreds of other improvements, optimizations, minor changes and fixes
---
Changes affecting free / licensed features

– There will be an upgrade fee for v4 Pro licensees. The exact fee will be based on when you purchased the v4 license and will be free in some cases. The highest fee will be no more than $15 USD.
– WebMail will require a subscription. You are encouraged to change applicable accounts to use IMAP or POP3 as most users do not need to use the WebMail protocol. More details and instructions to switch to a standard protocol will be available. The price for the WebMail subscription is expected to be around $25/year USD (update: this was the pre-release estimate; actual current price is $20/year. More information).
– The free version will occasionally display a banner for POP Peeper / Esumsoft products. Having any premium license (Pro, Plus Pack, or WebMail subscription) will remove the banner.
---